the rain came. good. hopefully, it may freshen up the darn grass yg nggak bener bener juga tumbuhnya sejak ditanem dengan berpeluh kringet asin di tengah puasa dua bulan lalu. apa yg salah ya dg rumput rumput itu? dikasih pupu mbe, udah. pupu kebo, udah juga. malah kadang kadang doggy tetangga pun kadang nginvest pupunya disitu..weleh rumput, what's wrong with you? nggak cukup apa pupuk tiga macem itu? kalo minta pupuk aroma lain idung gue dah gak rela, jo.
terus setelah ujannya pergi, pelanginya ternyata ketinggalan.. the rainbow looks lovely, membentuk setengah lingkaran tertelungkup, dg satu kaki terlihat di gn. hambalang dan satu kaki lagi di gn. pancar..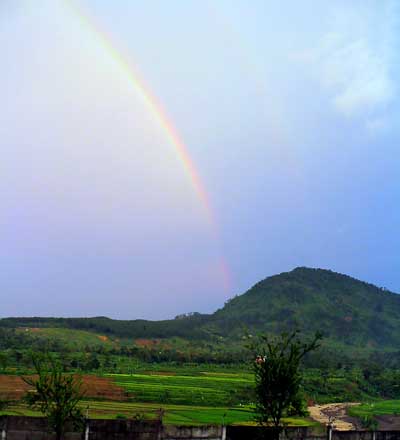 kok kepikiran ya, pelangi itu kayak mewakili manusia dan tuhannya. maksudnya kalo misal warna gw coklat, terus warna dikau biru, babeh gw merah (warna carok atawa preman emang merah kan? :), warna dodo ijo, si dudung jiwanya kuning, si wawa cocoknya tipe ungu, si kodir oranye, dst dst... then we are supposed to live side by side peacefully, right?
after all, all of the colors indeed come from one source, the light, that bright white light thing.. and if we all the colors stand together, there will be only one color exist and seen.. white.
(ceracau kacau karena kebanyakan minum parasetamol kali nih)